In the hunt for love, there's no going halfway.
Salvation Pack, Book 5
Drawn to Salvation by her passion for nature, Gray Everson's looking forward to some peace and quiet to work on her paintings. She didn't expect hunters shooting up the forest around the cabin she rented. And she certainly didn't expect to find a wounded wolf.
It's only after Gray sends the hunters packing that she realizes the creature hidden in her cabin is no ordinary wolf. He's a ruggedly handsome man with an extraordinary ability Gray thought only existed in fiction.
Louis LaForge has given up on finding a mate and channels all his energy into protecting his pack. But his instant attraction to a skittish artist is more than simple lust. There's something about Gray he just can't put his finger on—until he gets close enough to touch her.
Louis is sure of what he wants, but pushing Gray too far, too fast is risky. The hunters aren't going away peacefully, and Louis's former pack is coming for him. When the final battle comes, there will be only one way to protect everyone he loves.
Warning: Contains an artist who has a secret even she doesn't know she's hiding, and a werewolf who's resigned to being lonely—until she fills his life with vibrant colour.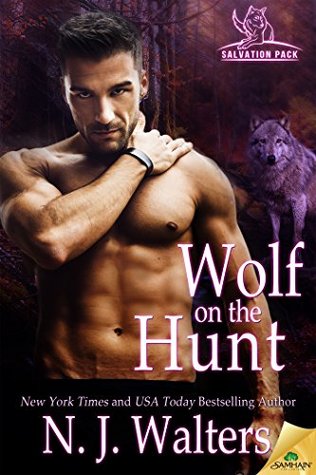 I received a copy of Wolf on the Hunt in exchange for an honest review.
I absolutely adore N.J. Walters and the Salvation pack series. I have loved poor Louis right from the beginning of the series and i am so happy to see him finally meet his mate. Not only is Grey his mate but she is also his match in every possible way. She is a strong, independent woman who longs for love and a family. She certainly finds it in the LaForge family.
This is the end of the line for the big bad wolf, the Salvation boys and their mates are all getting ready for the big showdown. Everything I have been waiting for since Wolf at the Door comes
together in a big explosion filled with action, suspense and a whole lot of romance. There is also the addition of a very friends dog that made my heart completely melt.
N.J. Waters writing is fantastic as usual and Wolf on the hunt is really a wonderful book that I just could not put down from beginning to end.