Lawyers know when to play by the rules…and when to break them.
Legally Bound, Book 1
Harvard law professor Jack Archer once balanced his professional life with the private world of dominance, surrender and trust he shared with his wife. Since cancer stole her a year ago, finding love again—her final wish for him—is the furthest thing from his mind.
From his empty house to the classroom, grief follows his every move. Until he meets a young woman with shadows in her eyes even darker than his own.
Once a shining star at law school, Lilly Sterling's dreams died when the Dom she trusted left her heartbroken and lost. She's starting fresh in a new city as a paralegal, but meeting Jack reawakens all her old demons—and her lingering desires.
Jack offers to become Lilly's mentor for both the courtroom and the playroom, but tells himself it's not a relationship. Their carefully worded agreement guarantees that. But when their trial agreement starts heating up, both Jack and Lilly must decide what will tip the scales: the letter of the law...or love?
Warning: All rise for a book that contains a wounded submissive and a Dominant who wants to retrain her while retaining control of his heart. Discovery phase may involve spankings, bondage, edging, and blindfolds. Is it hot? You be the judge.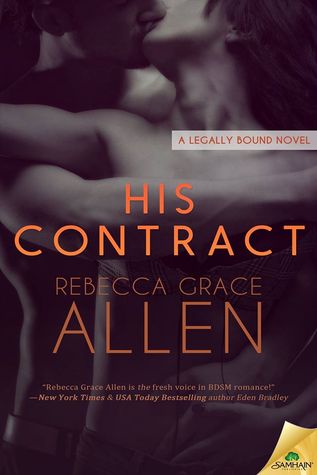 I received a copy of His Contract by Rebecca Grace Allen in exchange for an honest review.
I loved this smart sexy book! Such a beautiful story with amazingly sensual scenes that were a delight to read.Lilly is a submissive by nature but she has been badly hurt by the only man in her life she had ever trusted her fantasies with and feels she can no longer trust any man.Jack is a lonely widower who has a lovely young son. When this book begins he is almost completely consumed by his grief and this made the back story to this BDSM plot absolutely breathtaking.
There were parts of this book that are ridiculously steamy and Rebecca Grace Allen did a wonderful job of giving you a glimpse into this type of lifestyle whilst making the characters completely realistic with their flaws and all. This book is a wonderful journey. We get to read how Jack and Lilly help teach other how to love again, and how to trust in themselves and each other.
This is a book i would gladly recommend you read as it is a beautiful erotic romance.