When Drake Hart's security team is hired to find a stalker, he has no idea what's in store for him. However, the day Zoey Lewis' picture lands in his lap, there's nothing he won't do to save her. He's always been quiet and shy, but seeing her changes everything.
Zoey is missing a filter when it comes to interacting with people. She's used to being lost in her computer and being taken care of by her sister. She's an oddball, and people find it hard to deal with. But when Drake Hulk-smashes his way into her world, she doesn't feel so out of place.
When Zoey is threatened and needs protection, will Drake save the day? With a body like his, all signs point to yes!
Warning: He owns a security firm. She's a little nerdy. It's a classic trope and a recipe for sugary-sweet erotica!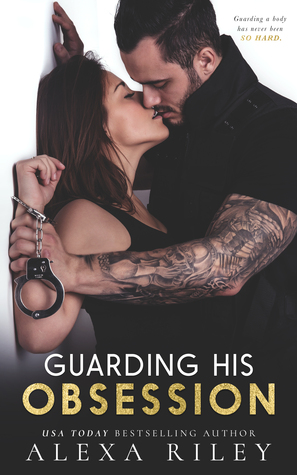 I received a copy of Guarding His Obsession by Alexa Riley in exchange for an honest review.
Alexa Riley strikes again! Guarding His Obsession is another hot, sexy, romantic read that is perfect after a hard day at work. Alexa Riley has perfected the insta-love genre with these sweet and sensual reads.
In this book we follow Zoey ,who is odd yet completely loveable and a pleasure to read. She is smart and witty as well as being beautiful so you can completely see why Drake falls for her hard and fast. I adored how Drake was a serious Alpha male with a heart of gold and a possessive streak a mile wide.
There is a perfect amount of action just to give you something else in addition to all the romance not only with Zoey but with her sister Elle. Once again Alexa Riley gives us a sensational book with the best epilogue.